She did - REALLY!
Mrs. Smith stole my idea of buying loose leaf spinach and using it for salads instead of salad mix.
(this is only applicable to those of us without gardens, I suppose).
I never knew she "stole" my idea until I joined her for dinner on night and she served a spinach salad with the main dish! (she actually

apologized

for "stealing" my idea!)
My children seemed to like her salad much better than mine though; it had walnuts, avocados, and cranberries. Mmmm!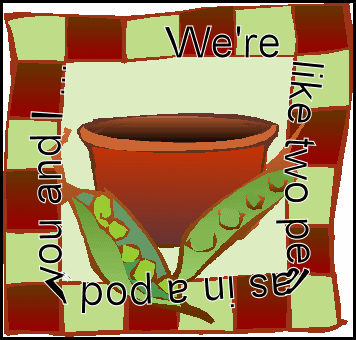 In all fairness, I stole her snap peas.
Yep, you heard right!
Here I was buying prepackaged carrots, prepackaged spinach, and I never noticed the snap peas!
One evening while Mrs. Smith and Greta were here she brought a bag of snap peas that were oh so sweet, and we munched away at them while we watched a movie.
I found them at Costco for reasonable (compared to grocery store prices), and I like Costco prepackaged veggies because they are often organic, and you get a lot for a little.
So anyway, if you need a tip for lightening up your dinner menue, you can steal my spinach if you want.
Or for that matter, even Mrs. Smith's peas!