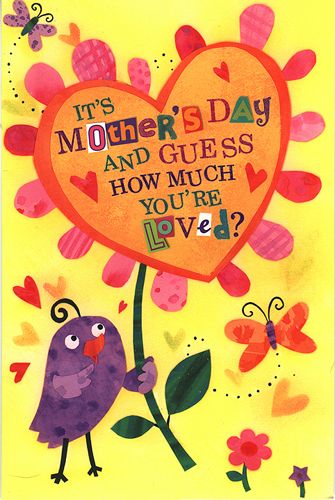 glitter-graphics.com
Dearest Mom,
I am very sad to discover that my phone is not working again this morning!
That figures!

This is a good third best option, but it comes in

behind

hearing your voice, and

WAYYYYY

behind

being

with you today:-)



HAPPY MOTHER'S DAY TO

YOU

!
I'm beginning to understand your love just a little bit better as I grow as a mom myself.
It's a HARD job! - and not in the way I expected! ;-)

As cliche as it sounds, I can't express my heart for all you are to me.
I remember with fondness all the baby sho
wers you took me to with you - what a lady I believed myself to be!
Thanks you for sharing your friendship in that way - what an honor that you would take me along.
I am so grateful for your decision to home-school me. I'm quite sure I would not be the person I am today, (in a GOOD way) but for that.
Thank you for my brothers and sisters. They were the best gifts ever! Did you know it would be that way?
Thank you for your faithfulness to Dad. None o
f us would be the same without that.
Thank you for birthday balloons,
and special notes,
for cleaning my room when I was away!
Thank you for your taxi services,
and piano lessons,
for taking that water color class with me.
Thanks for breakfasts at Italian cottage,
and lunches at Taco Bell :-P
Thanks for putting pink carpet in my room!
Thank you for painting that "birdie in the apple tree" mural on our wall...
Thank you for singing "birdie in the apple tree" to me when I had a bad dream, or was sick. I still remember that - that and "Tell Me an Old Old Story".
Thanks for singing in the car with Dad,
and for encouraging MY singing in the car! I have one of those little singers now too:-)
Thank you for green beans with Roasts,
and Rocky Road ice cream!
thank you for making hot chocolate with my
children,
and not crying when we left for Colorado...
...at least waiting 'till we were out of sight.

Your Mothering is an inspiration to me,
your friendship priceless.

Truly.
I love you Mom.
Thanks for all you are!

Love,
Analene Rose

A

mother is a person who seeing there are only four pieces of pie for five people, promptly announces she never did care for pie.


~Tenneva Jordan


Being a full-time mother is one of the highest salaried jobs... since the payment is pure love.
~Mildred B. Vermon