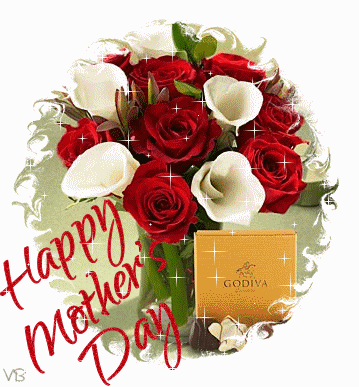 glitter-graphics.com
What did YOU expect Mother's Day to be like?

Did you thinking of YOUR Mom?
Did you expect a nice card, or maybe some flowers?
Or are you one of those who braced for a rough and bumpy ride (because that's often what you get on "special occasions")?
I always want to think that I don't have any expectations, and certainly not HIGH ones!
That's not true though.
Somewhere in the small selfish part of me, I expect Mother's Day to be MY day now that I'm a mother.
There's one small detail that doesn't add up with this idea...
If Mother's Day is for ME and about ME... where would the
children
be that MAKE me a mother? It would be a lonely day without them!
HOW IT WENT

...



I got up at six o'clock on Sunday morning to see my Beloved out the door - he was leaving for Kentucky again.




I had fully planned to try braving church on my own, but after five hours of broken sleep, I was beginning to wonder if this was a good idea?





When both girls woke up sounding like sirens, I made my decision.





Shortly after, I discovered that Olivia had another infection in her right ear this time, and it had ruptured! Poor baby:-(





We decided to go out to the grocery store and get some special things for lunch, and just as we were ready to walk out the door Carolina (in her brand new little outfit Gramsie gave her) had a

Bomb-out

- even worse than

thi
s
! (is that possible?!) So anyway it was a strip down bathe her in the bathroom sink affair.
We finally got to the store, and got through tall our grocery shopping ending at the ice cream.
You have to end at the ice cream because otherwise it will melt when you shop, but you have to understand that I specifically went to Safeway just so I could buy my favorite Safeway Select Rocky Road ice cream.
Guess what.
They were clean out. I searched behind all the cartons of vanilla (there's a reason why there was still plenty of vanilla, mind you). I literally stood there one one leg trying to figure out if I could solve this very serious problem some other way.
I was tempted to get the management and sob "HOW CAN YOU
DO THIS
TO ME!! LOOK AT ME, FIVE CHILDREN, GROCERY SHOPPING WITH NO DADDY ON
MOTHER"S DAY
! I DESERVE MY ICE CREAM!!!" Honestly I think it would have been worth it if I thought I'd have gotten my Rocky Road out of it, but I had a feeling they weren't holding out the last carton just to spite me.
I settled for chocolate and all the fixings for hot fudge sundae's.
When we got home I sent Olivia downstairs to find her cup. When she didn't come back up I sent Susanna after her.
Then SHE didn't return! Now you know it is in mother's best interest to get to the bottom of that ASAP... but I didn't.
Up comes Olivia with sister in the lead tattling that "Olivia was eating chocolate kisses!" (Never mind that Sue joined in the fun as evidenced by the brown mouth and teeth!)
Later that day I looked (but not too closely) in the trash can in the bathroom and couldn't see the bottom for all the candy wrappers.
On the bright side, I was just glad they were in the trash and not the toilet!
Miss Carolina had fallen asleep in her bouncy chair during this escapade, and shortly thereafter I heard a loud thump as Sue had tipped the chair forward (unintentionally) and landed baby's forehead on the baseboard against the wall.
Ei-yie-yie!!! Nice little dent in her head!
WHAT I HAD FORGOTTEN TO BE THANKFUL FOR
..

Of his own accord, Clayton Praise worked hard all week making a special Mother's Day gift for me. With great care he filled an entire empty Huggies diaper
box with pictures he had drawn, and envelopes full of his treasures: beautiful jewels, necklaces, and his own clothes "for the next baby (that we don't know anything about yet) to grow into".
My favorite was an envelope that contained every last dollar from his money can - eight, to be exact!
If that's not enough to melt your heart!
He is such a generous guy! (I love you Clay!)

I climbed into bed with my Little Bugs after I had tucked them in, and just reveled in the goodness of my Lord.
How amazing that I am the mom of five healthy, beautiful children - definitely NOT what I deserve.
Without THEM, I would not have the privilege of celebrating this special day at all.
If anything, all the events of the day served (upon proper consideration) as a real reminder of just how much I am needed.
I am

needed!


And not only that, but I am needed by those I love most, and who love me back

despite

all my short-comings!
THAT should be worth celebrating!!

It was.
And I did!

Mrs. Smith came over with her crew and miss Gretta, another friend, and spent the night.
We shared great big bowls of ice cream sundae, and laughed about the day! We watched chick flicks, in our pajama's staying up 'till all hours.
We had a lot of fun:-)

The best part though, was being able to be thankful for the honor of being a mother.



Oh, how I am

.